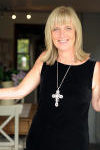 Hello from Your Rector.
Our Parish Church started life back in the 12th century looking very different to the distinctive looking building on the hill you see today, thanks to a complete re-model in the 19th century.
While these renovations are not on the list of Villager George Gilbert Scott's work, he must have had considerable input as two of his most favoured craftsmen, who worked with him on the Oxford Martyrs Memorial, were engaged to do the works here.
Visitors, who will find out church open and welcoming, can discover a clearly Scott inspired Arts and Crafts altar as well as other Scott inspired renovations, along with two dedicated 21st century works of religious art by local artist Phyllis King.
As well as being open for visits and for prayer every day, we also invite you to join us for worship:
On the first and third Sundays of most months, St Mary's hosting an 11.15am Parish Communion, based on 'Common Worship'.
On the fourth Sunday our 11.15am Village Praise and Prayer explores a variety of themes from forgiveness to the changing seasons through words and music.
On the second Sunday we decamp to the Village Hall for "The Big Breakfast" starting at 9am.
On occasion we travel to worship with our sister churches within the Astwell Benefice and details of the time and venues of these services as well as everything else can be found on our Church notice board, via Wiz News and via our website: www.astwellparishes.org.uk
If you would like to speak to our Rector, The Reverend Carole Peters-King about a wedding or baptism or anything else, she can be contact on carolepeters@aol.com and 01327 860798. Or, you can speak to one of our Churchwardens – Edwin King (01295 760 506) or Howard Mordue at howard@launtonpress.co.uk.
Our Church is kept open as a place of worship due to the generosity of others. If you would like to donate to our Church, gift aid envelopes and a wall box can be found in the Church.
Part of the Astwell Benefice
Click to find out more about our Parish and Benefice
Contact our Rector
Reverend Carole Peters-King
The Rectory, The Green, Lois Weedon, Towcester NN12 8PN
01327 860798 or 07710128859
carolepeters@aol.com
I will normally be away from my desk from Thursday afternoon until Saturday morning and may not pick up emails during this time.
Other Contacts
Church Wardens: Edwin King and Howard Mordue
Secretary: Jane Mordue
Treasurer: Anthony Tucker